Titan Chain Alloy Snow Tire Chains Diamond Pattern Square Link 2 Pairs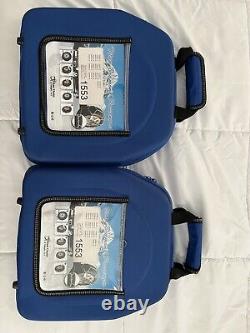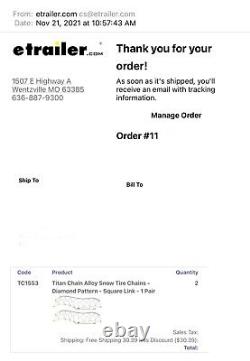 Titan Chain Alloy Snow Tire Chains - Diamond Pattern - Square Link - 2 Pairs. Fits: 15" - 19" tires.
Link Thickness: 3.7mm (0.145). Titan Chain Tire Chains - TC1553.
Drape Over Tire - Make Connections. Provides excellent traction in snow and light ice. Square links dig in and provide good grip - small size makes for a less bumpy ride. Diamond pattern offers constant traction and a smoother ride than ladder patterns. Made for passenger vehicles with limited wheel-well clearance.
Meets SAE Class S standards. Tightens around tire quickly and easily with built-in tensioners. No need to drive onto chains or drape them over your tires.
Fit chain around wheel and make connections using bright, color-coded hooks and clips. Tug on tensioners to get a tight fit - built in so you don't have to worry about losing parts.
Resists corrosion thanks to manganese nickel alloy construction.